What to expect if you order horse hair jewelry: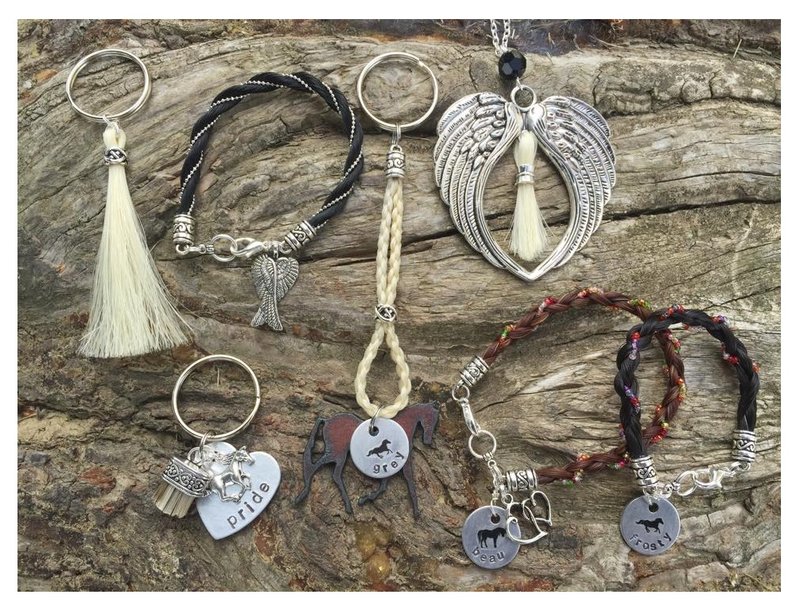 1. 

You are welcome to send in your horse hair at any time after your order has been submitted. (You will receive an automated confirmation / receipt of your order almost immediately after submitting payment.) 

The address to ship your horse hair to is:
Equine Keepsakes
P.O. Box 912
Monongahela, PA 15063
**Please note that if you send in horse hair before submitting your order, your horse hair will be returned to the address it was sent from. The reason for this is that I will not have a confirmed method of contact nor order details on file. Once your order has been placed you are welcome to send in your horse hair at your earliest convenience.
2.
Once your horse hair arrives work will begin.  You will receive an email to confirm delivery.  Current estimate production times for new orders vary based on design.   Estimated production times are approximately up to 3 weeks for most designs. Please note that if you are sending in hair, production time does not begin until your horse hair is delivered to us.  Orders will be created in line based on the date the hair is received.
3. 

You will receive an email containing tracking information for your order the day before it ships out.  

What are your contact methods?
I prefer to communicate via email, or another form of written discussion. This provides a log of our conversation so that I can ensure no details are missed.  I will

only

 email you from info@equinekeepsakes.com. Emails from any other email address are fraudulent, and I would appreciate hearing from you if this happens for any reason! All communication with me will always refer you back to one of the following:

Equine Keepsakes Horse Hair Jewelry

(Facebook),

www.EquineKeepsakes.com

, or

info@equinekeepsakes.com
What about social distancing / limited travel availability?
Interested in ordering, but unable to leave your home, or just concerned about social distancing due to the current Covid-19 pandemic? 
We've got you covered! You can now purchase your shipping label on our website! This will allow you to print the label from home and affix it to your packet of horse hair. It can then be placed in your mailbox as outgoing mail. No need to leave the house! 
Add a label to your order today at 
https://equinekeepsakes.com/products/label
What currency are prices shown?

          All prices shown are in USD. 
What size bracelet should I order?

This can be easily determined by either measuring a well fitting bracelet from end to end or wrapping a string around your wrist and measuring that to a comfortable fit.  The size you list will be the actual bracelet size.  Don't know what size is needed? While a custom size is typically preferred, industry standard for an average adult is 8".
Does my keepsake include a warranty?
I did not receive a receipt, order confirmation, etc. Can you help?
Certainly! This is often caused by the messages going to your spam or junk folder. Another common reasoning is that the email address has been typed incorrectly. For example, .CON is often typed instead of .COM
Will you send back extra horse hair? 



Absolutely! All usable horse hair will be returned to you with your finished order unless you specify otherwise.
Do I need to wash the hair before mailing?

No, you do not need to wash the horse hair.  Cleaning, disinfecting, and even whitening (if applicable) are included in the price.
Can you create my design with mane hair?
As long as the hair meets the specifications requested for that design, yes.  Please consider the width of the bundle at the specific length. (Each listing estimates the amount of hair needed in the description section.) 
Can you use ashes in any of your designs?
We have a full selection of designs that can be created with ashes / cremains.  They can be seen on our sister-site: https://cremainkeepsakes.com/
What are your metal options? How do I choose?
I have designs available in silver plated, stainless steel, and sterling silver.  Stainless and Sterling are recommended as silver plated

will

 eventually tarnish. Once this happens it is permanent.
What if I don't have horse hair to send in?



No problem! I have an abundance of hair to use for your order. I will contact you after you place your order to determine that color(s) you would like used.  Please note that my horse hair is 100% cruelty free.  It is not sourced from slaughter-houses, but instead from customers who have extra and choose to allow it to remain here for orders such as this.
How much hair will my keepsake require?



The amount of hair required varies greatly by style.  For this reason, I have added a summary to each listing in the description section. Please visit the page for the design you are interested in for a closer estimate.  On average most bracelets require a bundle of hair about as wide as a pencil and approximately 14" long at minimum.
What address should I ship my horse hair to?
Equine Keepsakes
P.O. Box 912
Monongahela, PA 15063
**Please note that a $25 fee will be assessed if your horse hair arrives before your order is placed, as this causes confusion and delays in the order process.
I sent in chestnut or sorrel hair and it looks black.  Is this mine?
Chestnut and sorrel hair often looks reddish on the outside, where it has been exposed to the sun.  On the underneath however, are the longest strands, which are most frequently required for braided designs. These are not exposed to the sun often and are frequently a dark brown or black tone with only minimal red highlights, if any. Please rest assured that all horse hair samples are color coded and handled one at a time to ensure that they are not mixed up.  
Do you ship internationally?
Absolutely! I do ship worldwide. However, please be aware that customs duties and taxes are sometimes charged on items that do not originate in the country you reside in.  These are a tariff or tax imposed on items / goods when transported across international borders. 
These fees are imposed by the country you reside in to generate revenue, protect local industries against foreign competition or sometimes both. In some countries, duties and taxes must be paid before the package is released from customs.
This is separate from a shipping fee, and I am unable to determine what your country's regulations are.